okay, true story:
anthro
may be the death of me. why? because my husband is going to kill me if i don't stay out of there!!!! :)
if you haven't heard of anthropologie...do yourself a favor and stay away! the store has a cult-like following...kind of like
pinterest
ha!
anyway...forever ago, i (and every other anthropologie-ite) fell in LOVE with anthro's zinc letters. AND RIGHTFULLY SO...they are fabulous. these letters are absolutely a statement piece and make such a simple, yet boisterous impact in ANY room. (i true love them in nurseries!) here they are, in their full, lustrous glory:
so, here's the kicker. they range from $18 for the small (8") and $98 for the oversized (25"). NOT COOL since, obviously, i want the oversized ones and i'll let you do the math on how much it would cost to spell thompson. like i said earlier: husband. will. kill. me. DEAD. and, they are always limited on what letters are available. as i previously stated: everyone and their dang dog is in love with these things.
the other day, i was poking around on pinterest (surprised? yeah...didn't think so. i start twitching if i go too long without getting a fix.) and found THIS: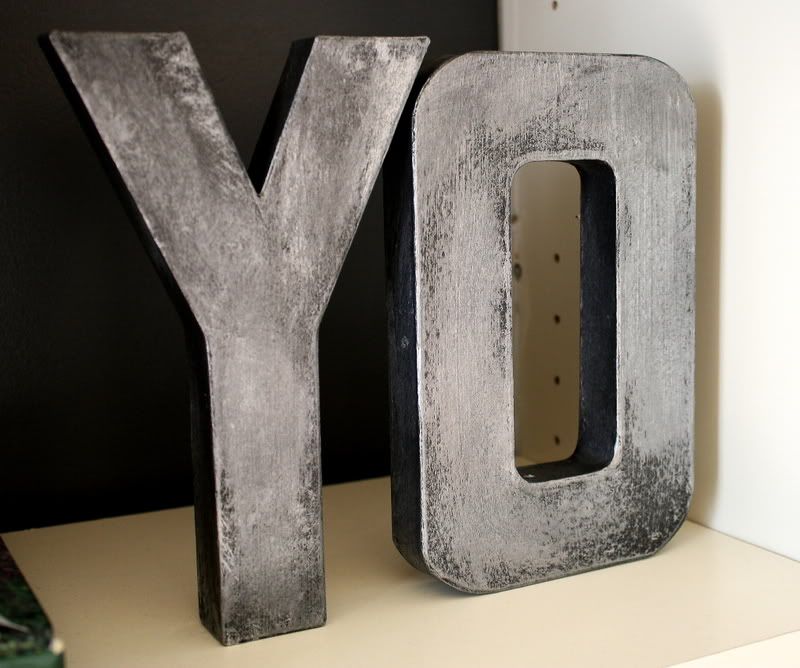 thanks to pinterest, i found this tutorial by kristen f. davis who is
a painter based in atlanta. fabulosity. all of it. all of her:)
the BEST part of this tutorial is it is SO easy!
here are your supplies:
letter (or frame, whatever you want!)
black craft paint, silver metallic craft paint
cheap-o craft brush. CHEAP-O is important,
as you will tear this thing to shreds.
well, at least i did.
(i apologize for the mini-picture!)


paint your letter black. please forgive me that i did not use my mad iPhone picture-taking skillzzz to take a picture of this. i know, you're upset. we'll work through it. promise:)
after you paint your letter black, DRY BRUSH your silver paint on. you will get better the more you do this and here are some tricks i found from trial and error:
when painting on the silver, if you use long, hard, flat strokes, you get the rough look of the metal.

let each coat dry. it makes the dry brushing MUCH easier. if you don't, you'll pull through to the cardboard and you don't want some nasty brown spot on your anthro-inspired letters!

if you do non-uniform strokes (ie not just horizontal, not just vertical) you get a "rougher" more metal look, and that's what i wanted. feel free to do whatever you like because it's yours!

if you think it's too uniform, use your finger and buff it out before the paint is dry.

if all else fails and you don't like it...PAINT OVER IT! that's the beauty of this!
so, here's the finished product up in action at
casa de thompson
: (for some reason, they didn't photograph as metallic-ey as they really are. in real life, they are much more vibrant.)
on top of our dumpster hutch. we pulled this beaute out of the garbage at our storage unit
and upcycled it. the hubs is pretty handy if i say so myself:)
up close.
in our OU bathroom.


in our bedroom.
word of caution: try to find letters that are smooth, unlike the T in this photo.
they didn't have any other ones, so i was hoping it wouldn't make a difference, but
you can totally see the bumps, making it a little less anthro. boo. but hey, for $5, i'll take it.
(AND i found that frame in the clearance section at michael's for $8!)
for the most part, i really like how these look...so you can bet your bottom dollar these things will be popping up EVERYWHERE. obviously!
as always, if you see anything i've done that you like, feel free to contact me and i'd be happy to make it for you!!!! i'm not going to charge a ridiculous amount...just enough to justify my pinterest addiction to the hubs:)
happy crafting!!!!